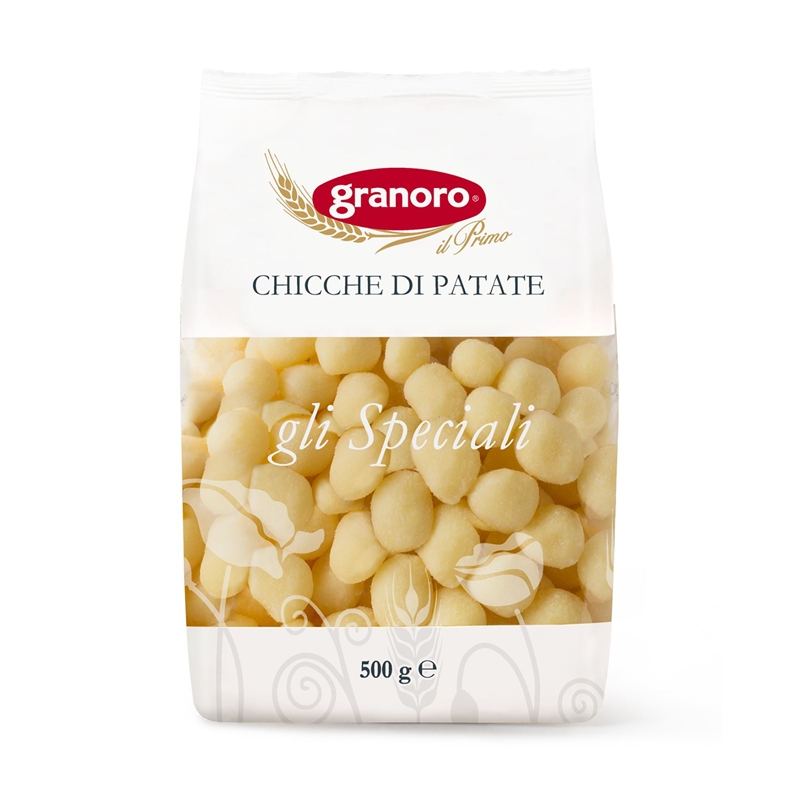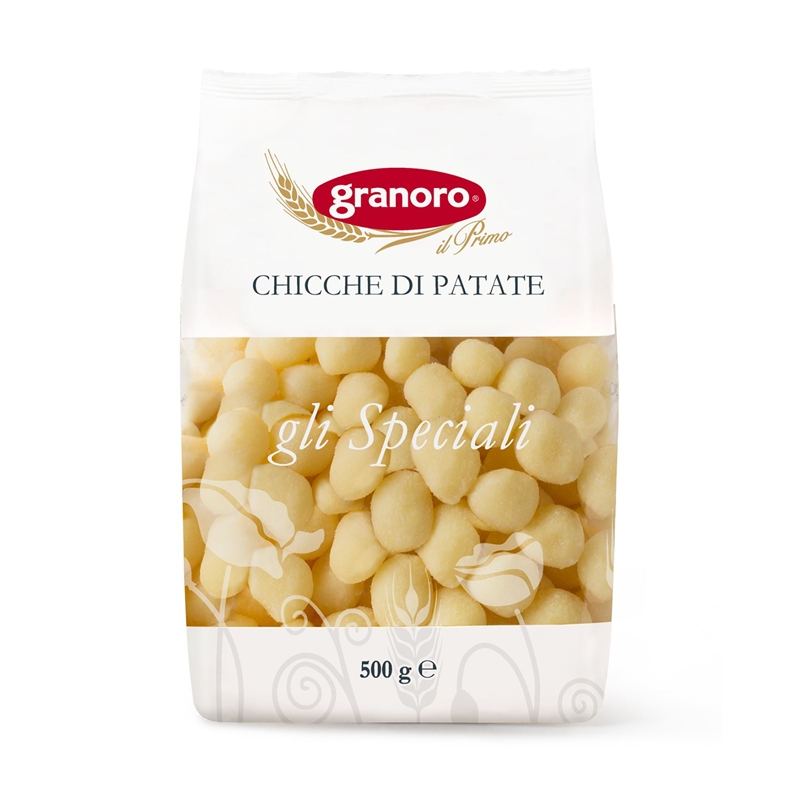 Chicche di patate
€1.10
Cibo dalle origini molto antiche, gli Gnocchi e le Chicche sono piccoli pezzi di impasto dalla forma tondeggiante e generalmente ottenuti da un impasto di farina (di semola o di frumento o di riso) con patate, pane secco, tuberi o verdure. I più noti in Italia sono gli Gnocchi e le Chicche di Patate, una specialità culinaria unica sia per gusto che per tradizione, diffusisi nel nostro paese a partire dal 1880, quando le patate furono importate in Europa dalle Americhe. Gli Gnocchi di Patate Granoro sono realizzati con fiocchi di patate (80%) miscelati con farina di grano tenero e acqua, pastorizzati e confezionati in atmosfera protetta. Caratteristica fondamentale della loro produzione è l'assoluta qualità degli ingredienti, accuratamente selezionati per offrire un prodotto genuino e gustoso. Gli Gnocchi e le Chicche di Patate Granoro sono prodotti con cura artigianale affinché risultino, dopo cotti, consistenti e callosi al punto giusto e al contempo morbidi al palato, conservando l'inconfondibile gusto del "fatto in casa". Buoni per ogni occasione, gli Gnocchi e le Chicche di Patate Granoro costituiscono un piatto semplice e sostanzioso. Veloci da preparare, sono ottimi da gustare sia con sughi tradizionali, come quello alla Bolognese, che saltati in padella, dopo averli cotti in acqua e sale, con il condimento preferito. Consigliati anche con tutti i Sughi Pronti Granoro.
Ingredients:

Ingredients: potato purée 80% (water, dried potato flakes [potatoes, emulsifiers: mono and diglycerides of fatty acids, antioxidants: sodium metabisulphite, flavourings]), type "00" soft wheat flour, potato flour, salt, acidity regulator: lactic acid, preservative: sorbic acid, natural flavouring, dusting of rice flour.

Store in a cool, dry place away from sources of heat. Once opened, the product must be kept in the refrigerator and consumed within three days.

Recyclable: plastic.
Nutritional Values
Average values per 100 g
% RI*
Energy
668 kJ
157 kcal
-
Fats
0.4g
-
of which fatty saturated acids
0.1g
-
Carbohydrates
33g
-
of which sugar
0.1g
-
Dietary Fiber
0.5g
-
Proteins
5.2g
-
Salt
1.4g
-
You might also be interested in