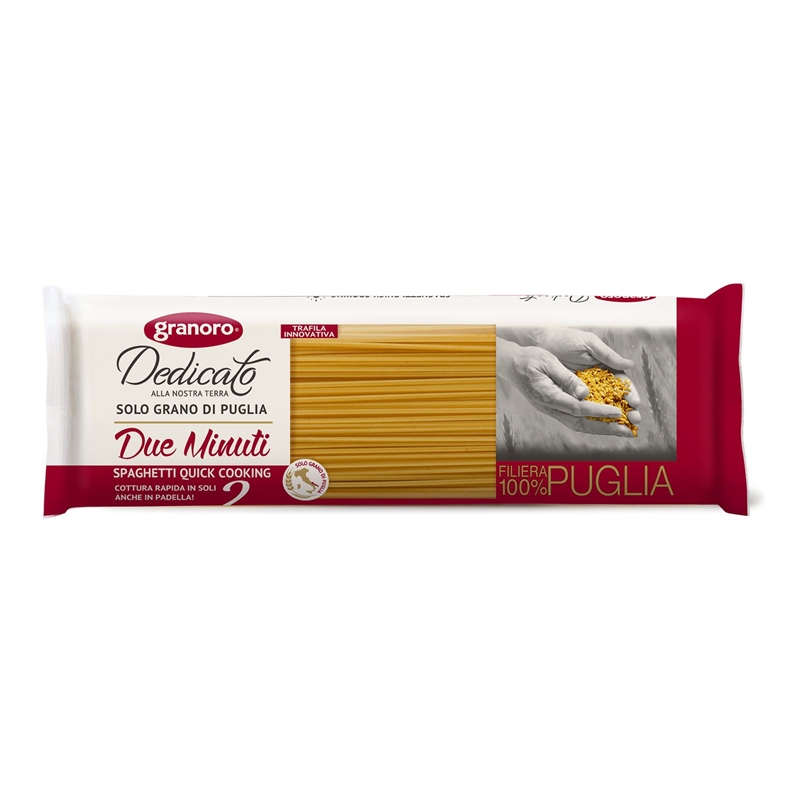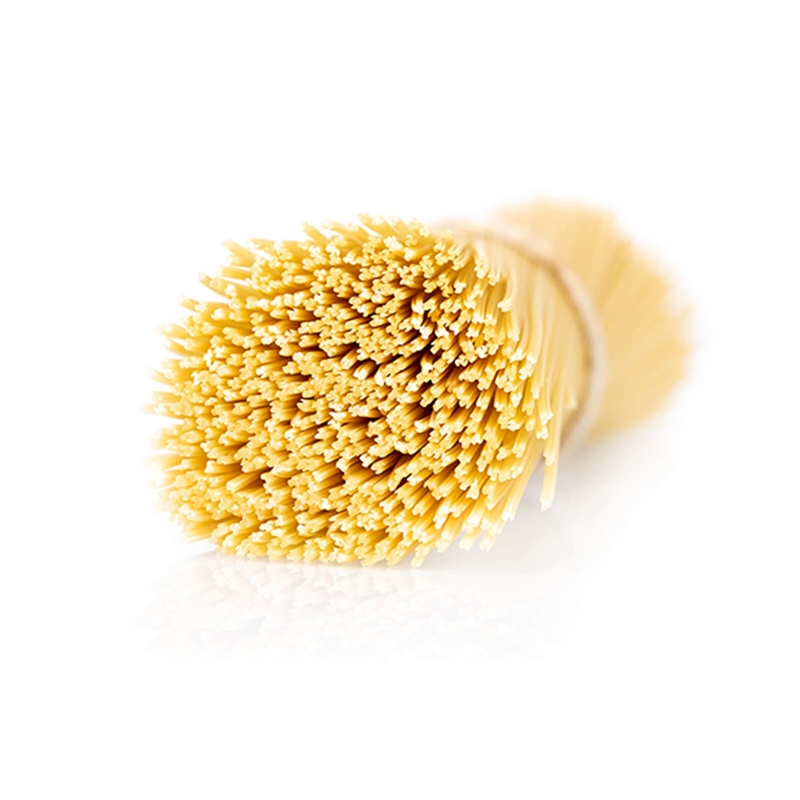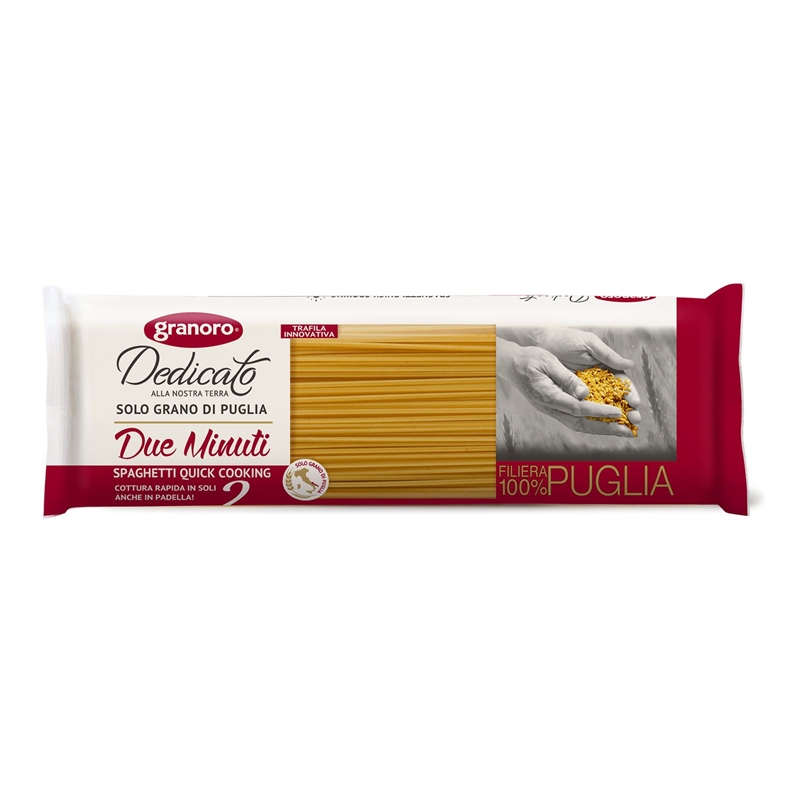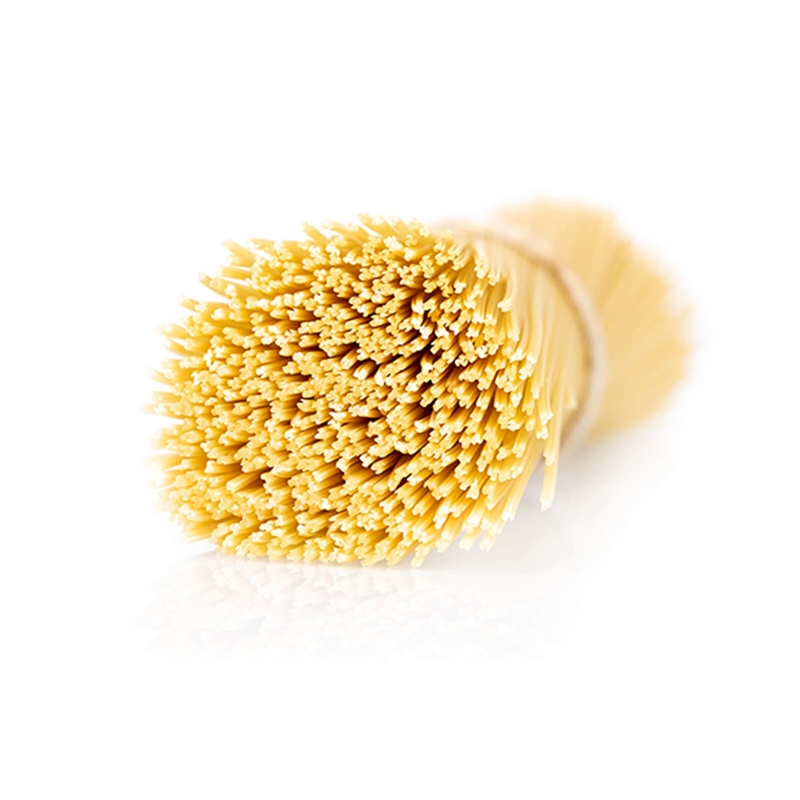 Spaghetti Dedicato "Due Minuti" n.194
Quick cooking in just 2 minutes even in a saucepan
€1.25
""Due Minuti" Granoro Dedicato SPAGHETTI: the inspiration behind Granoro's Quick-Cooking line of pasta
"Due Minuti" spaghetti was inspired by Granoro's desire to respond to demands from the Asian market but also to transfer a culture, that of the Far East, to the Italian and international marketsThe idea of a quick-cook pasta that can be ready in just a few minutes derives from traditional Asian cuisine that uses noodles, a pasta similar to Italian spaghetti. The difference between spaghetti and noodles is that spaghetti is made using durum wheat flour and is drawn, whilst noodles are not made with durum wheat flour and are cut directly from a sheet of pasta with a low level of humidity. Japanese and Chinese noodles are produced from a dough made with wheat flour, water and sometimes eggs; they are long and can be of various thicknesses, similar to the Italian vermicelli type of spaghetti. The basic technique entails letting the dough soak in water to wash off the starch and increase the viscosity of the noodles, thanks to the gluten contained within. The dough is then divided by hand into fairly thin strips using a cloth with holes in it or with the help of tools made of iron or wood pressed together by hand or using a pedal. Once cooked (cooking time: maximum 3 minutes), the noodles are drained and mixed with a condiment or sauce or dried for consumption at a later dateThis product now plays an important role in the history of Asian cuisine and is gradually increasing in popularity in other countries, especially in the Western world
Granoro Dedicato Spaghetti with patented drawing
The secret of this pasta format is in the selection of quality semolina and in the use of an innovative kind of drawing, designed by Granoro, to obtain a pasta format, Spaghetti, with a completely original section. Just like all of Granoro's pasta, Granoro's "Due Minuti" spaghetti is made using only the best durum wheat semolina and water. What sets this spaghetti apart from traditional types is its formation: "Due Minuti" spaghetti has a surface covered in grooves, unlike traditional types of spaghetti that have a smooth surface. Thanks to this special formation, obtained using an innovative kind of drawing purposely designed by Granoro and patented in Italy with an industrial invention patent, Granoro's "Due Minuti" spaghetti:- cooks in just two minutes- has the same thickness after cooking as traditional spaghetti- has excellent firmnessand can save time without compromising on taste.Add extra value to your pasta with Granoro!
How to cook Granoro Dedicato "Due Minuti" spaghettiGranoro "Due Minuti" spaghetti is a versatile product that can be cooked in a variety of ways.Granoro "Due Minuti" spaghetti can be boiled in salted water, or cooked "risotto style". "Risotto style" cooking is a popular way of cooking pasta in restaurants as it allows the pasta to absorb the sauce as it cooks, increasing the flavour and trapping the starch. To cook "Due Minuti" spaghetti using the "risotto style" method, the amount of sauce used must be twice as much as the amount of spaghetti to be cooked and it must be well diluted to allow the pasta to cook with the sauce. Prepare the sauce, then add the spaghetti and cook for as long as necessary (two minutes). If the spaghetti seems to be drying out whilst cooking, just add some water. The main difficulty with this method of cooking the pasta "risotto style" is that the pasta cooks more quickly than it does when boiled, so great care must be taken to stick to the recommended cooking time and make sure it does not overcook.
Ingredients:

100% Puglia durum wheat semolina
Allergens: Gluten, may contain traces of soya and mustard.
Nutritional Values
Average values per 100 g
% RI*
Energy
1507 kJ
355 kcal
-
Fats
1.5g
-
of which fatty saturated acids
0.5g
-
Carbohydrates
71g
-
of which sugar
3g
-
Dietary Fiber
3g
-
Proteins
13g
-
Salt
-
-
You might also be interested in