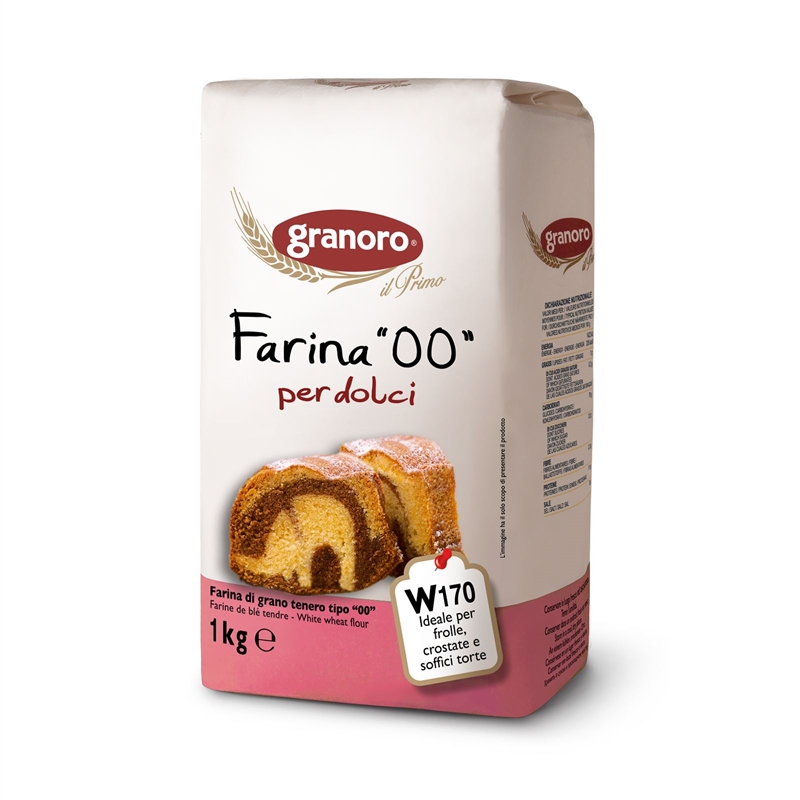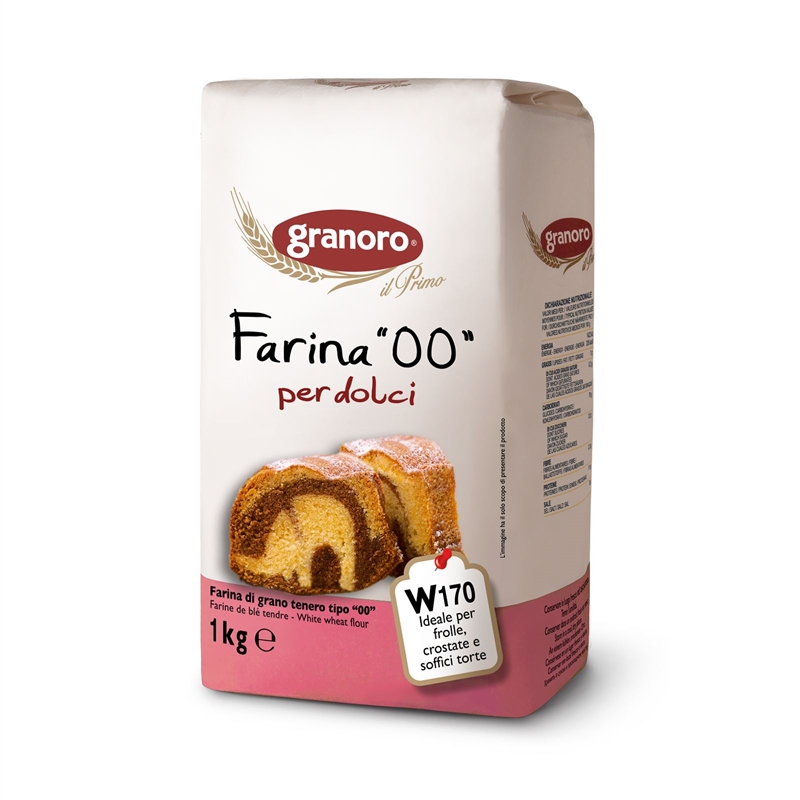 Farina "00" per Dolci 1kg "00" Type Flour for Cakes and Pastry 1kg
Ideal for bread-making and for the homemade preparation of other fresh doughs.
€0.85
Granoro type "00" soft wheat flour for cakes and pastry is obtained from a blend of the best varieties of specially selected grains. IDEAL FOR SHORTBREADS, PIES, PUFFS, CAKES AND SMALL PASTRIES. The Granoro "00" type soft wheat flour for cakes and sweets differs from the classic "00" type flour because it has a low gluten content. Therefore, it is an ideal flour for shortbread pastries, pies, cream puffs, cakes and small pastries. These preparations have the characteristic of having the perfect crumbliness. Crumbliness, in particular, derives from the use of flours with a not very high W, which produces a dough with an incompletely formed gluten network such as to give the correct consistency to the baked product. DID YOU KNOW THAT? The W value expresses the STRENGTH of the FLOUR, i.e. the ability to absorb water during the kneading and retain carbon dioxide during leavening. It is linked to the quality of the soft wheat used and therefore to its gluten content. Granoro "00" flour for cakes and sweets has a balanced W value to allow for the formation of a gluten network suitable for creating a balanced and not very accentuated sponginess in the finished product.
Ingredients:

Type "00" soft wheat flour. May contain traces of soy and mustard.
Nutritional Values
Average values per 100 g
% RI*
Energy
1425 kJ
336 kcal
-
Fats
1g
-
of which fatty saturated acids
0.2g
-
Carbohydrates
71.2g
-
of which sugar
0.5g
-
Dietary Fiber
2.5g
-
Proteins
9.3g
-
Salt
0.0g
-
You might also be interested in