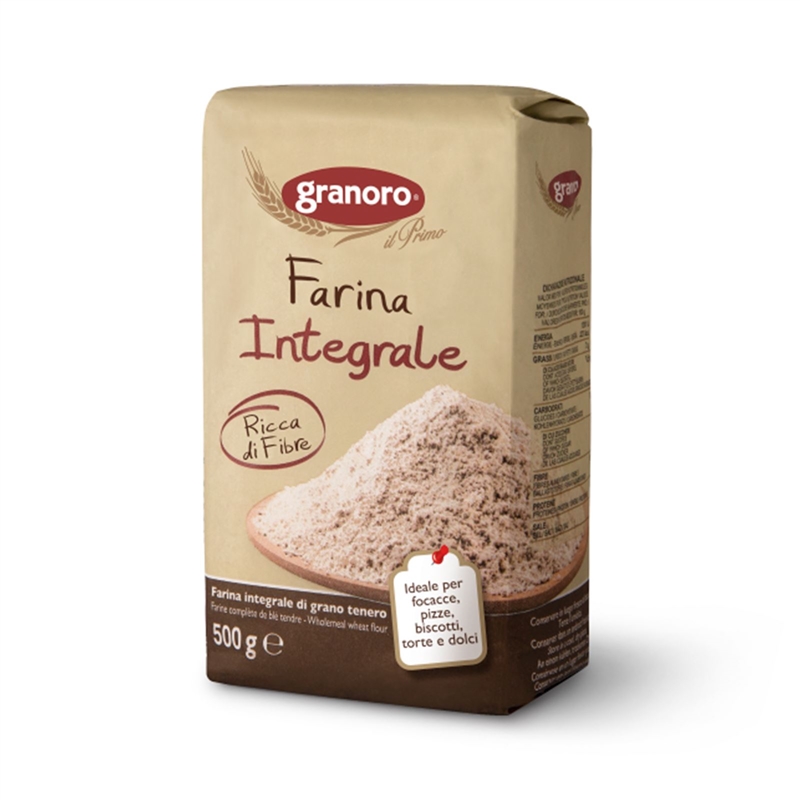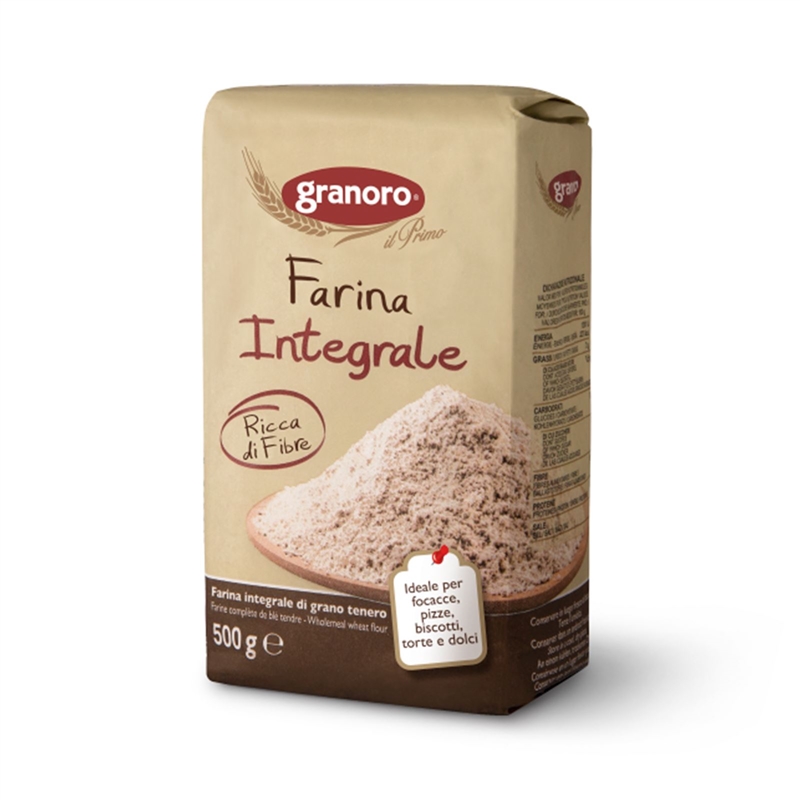 Farina INTEGRALE 500g Wholemeal flour 500 g
Ideal for bread-making and for the homemade preparation of other fresh doughs.
€0.65
Granoro Wholemeal Flour is made from grinding whole grains of soft wheat and is used to make fragrant doughs with an intense flavour. Granoro Wholemeal Flour is classed as a food with a High Fibre Content, as it contains 10 g of fibre per 100 g of product, a higher amount than the minimum limit of 6 g of fibre per 100 g of product, as set forth in EC Regulation 1924/2006. Granoro Wholemeal Flour provides 40% of the daily recommended amount of fibre and is therefore ideal for anyone wishing to add a high amount of fibre to their diet. Fibre is an essential ally for your physical wellbeing and staying in shape. RECOMMENDED USE: Granoro Wholemeal Flour, designed to be used by itself, without the addition of other flours, is versatile and can be used to prepare all wholemeal products: buns, baguettes, focaccias, ciabatta bread, filoncino loaves (Italian style baguettes), friselle (a traditional product from Puglia), biscuits, wholemeal taralli and cakes. It adds fragrance and gives products a rustic flavour and appearance.
Ingredients:

Wholemeal soft wheat flour. May contain traces of soy and mustard.
Nutritional Values
Average values per 100 g
% RI*
Energy
1361 kJ
322 kcal
-
Fats
2g
-
of which fatty saturated acids
0.5g
-
Carbohydrates
60g
-
of which sugar
2g
-
Dietary Fiber
10g
-
Proteins
11g
-
Salt
0.0g
-
You might also be interested in